Have a middle school robotics team that would enjoy the fun of pitting their design skills against other middle school students?

Interested in starting or jumpstarting a robotics program and looking for a goal to energize and motivate your students?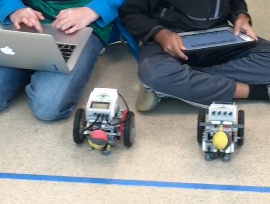 Lehigh Valley CORE, with the financial support of Lehigh Valley Health Network, is launching an interscholastic middle school robotics league and we are inviting your students to join us free of charge.  The league will consist of six competitions on Tuesday afternoons in January and February where students
from area middle schools will come together to be presented with a challenge.  Students will be given 1 ½ hours to design, build, test, and modify their robots and/or attachments to complete the challenge. Each meet will conclude with a friendly competition.  We will have weekly winners and a league champion but the goal of the season will be to come together with other robotics students from the area, improve skills, share a love of technology, creativity, and design and, most importantly, have fun.
Robotics teams are asked to bring one robot for each 2-3 students (built with Lego Mindstorms EV3, NXT or the LEGO SPIKE Prime kit) and iPads or laptops for programming.  The league will provide an ample supply of LEGO Technic pieces to design and build attachments to complete the challenges.  If you need directions to create a robot from your LEGO Mindstorms EV3 kit, we will gladly provide a pdf to walk your students through the building process.
All six competitions will be held at St. Thomas More School (1040 Flexer Avenue, Allentown, PA 18103) as a reasonably central location with easy access to I-78.  The details of meet dates and times are on the flier below.
If you don't have a robotics program or club and are interested in pulling some students together to join us this winter, we are happy to mentor a coach from your school.  We have robot building instructions and plan to provide some sample challenges so your team can practice and become excited for the meets.  All you need is a Lego Mindstorms EV3, NXT, or Lego SPIKE Prime kit.  If access to a kit is limiting your ability to join us, please reach out and we will see if we can find you the supplies.
We would like to thank Lehigh Valley Health Network for their financial support of the league and their interest in furthering STEM opportunities for students.
LEAGUE INFORMATION FLIER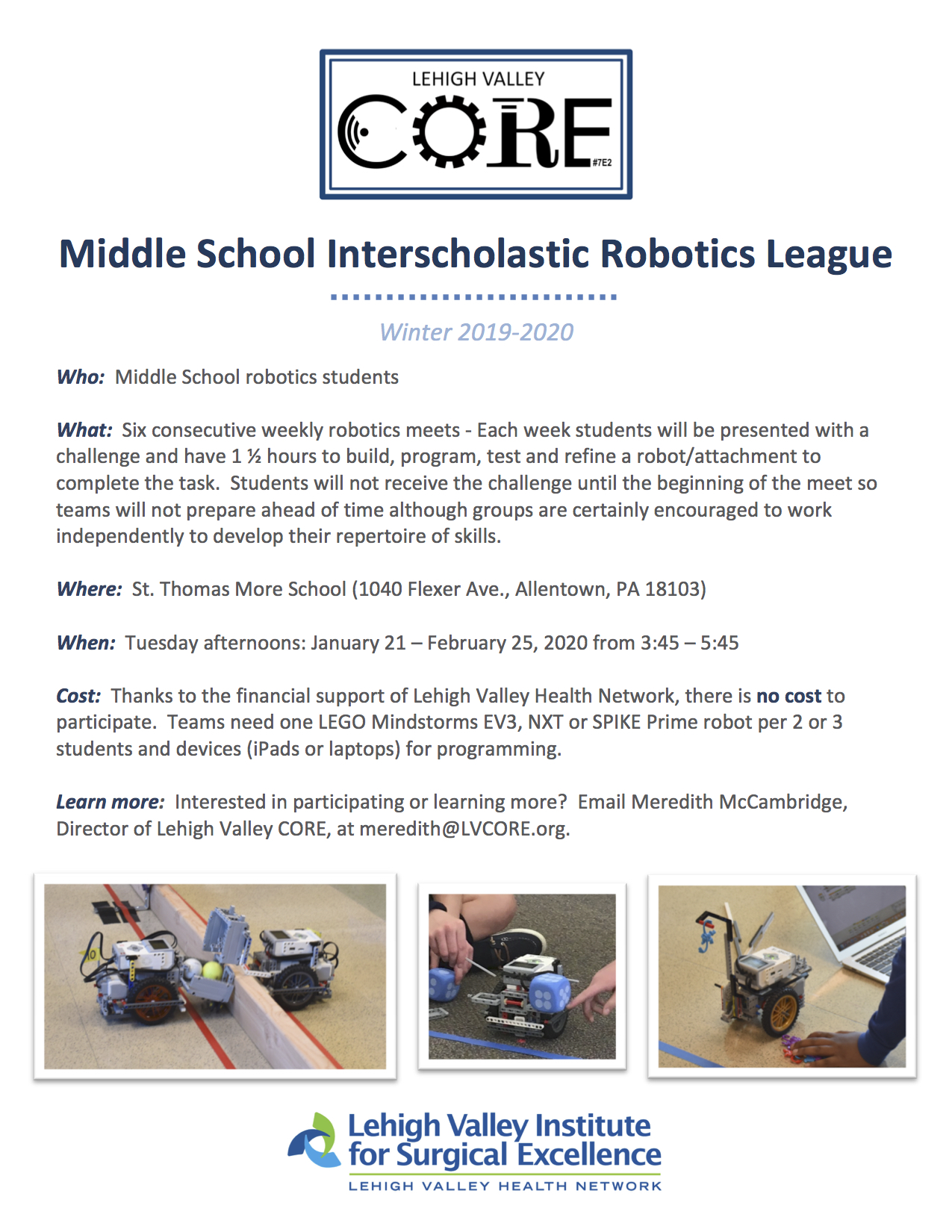 LEAGUE REGISTRATION